Belgian Gas Explosion Kills 15
Workers Had Reported Piercing Underground Pipeline
Associated Press
Saturday, July 31, 2004; Page A15
ATH, Belgium, July 30 -- A natural gas pipeline apparently pierced by construction workers exploded Friday in huge columns of flames that killed as many as 15 people and injured more than 100, crushing buildings, scorching cars and burning fields for hundreds of yards. Officials said the death toll could rise because some of the injured were in extremely critical condition.
The blast occurred at about 8:30 a.m. in an industrial area in the village of Ghislenghien, about 20 miles southeast of Brussels, the capital, and could be seen and heard for miles. Emergency crews from across Belgium and from France, Luxembourg and Germany rushed to help, and a gray haze hung over the area as helicopters and about 50 ambulances carried the injured to hospitals.
About a half hour before the explosion, construction workers alerted firefighters that they had damaged the underground gas line, according to Guy Petit, the acting provincial governor. At least five of the dead and many of the injured were believed to have been police officers and firefighters responding to the call.
A towering wall of orange flames released by the blast sent fireballs high into the sky. The shock wave crushed a cluster of large buildings in an industrial park and hurled bodies more than 100 yards.
"There were bodies in parking lots, in fields. There were burned-out cars," said Francis Boileau, a spokesman for the Brussels fire department. "We have not seen devastation on such a scale for 40 years."
Prime Minister Guy Verhofstadt, who flew back from a vacation in Italy, said it was the worst such accident in Belgium since 1967, when a tanker truck carrying liquefied gas exploded, killing 22 people.
"The accident constitutes for our country a national catastrophe, and the toll is a heavy one," Verhofstadt said in Ath, six miles from the blast site. He ordered flags to be flown at half-staff and declared a national day of mourning when the victims are buried.
Verhofstadt said 15 people had been confirmed dead and three were unaccounted for. He said 120 people were hospitalized, including 12 who were sent to burn centers in northern France.
A fire official, Jean-Claude Mondo, said the head of the local volunteer fire department, Eddy Pettiaux, was among the dead. Officials said there could be more deaths among the gravely injured.
"There are many serious burn victims, with serious burns mostly on their backs," said Jean Francois Breckx, a physician at a military hospital in Neder-Over-Heembeek, a suburb of Brussels. "There are some 20 or so that are fighting for their lives."
© 2004 The Washington Post Company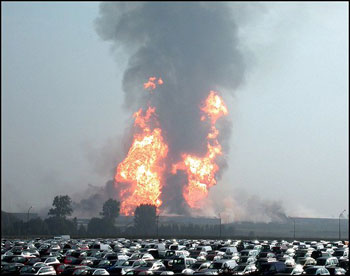 Photo Credit: Stijn Defrene – AP