Ground Penetrating Radar Applications
Concrete Scanning | Post Tension Cable Locating | Utility Locating
Balcony Deterioration Inspection | Bridge Deck Inspection | Sink Holes & Void Locating
Storage Tank and Drum Locating | Forensic Investigation | Road Way Evaluation
Ground Penetrating Radar has been widely used since 1970, first in the geophysical and geotechnical fields, and later in large construction projects.

While the technology is still called "ground penetrating", today's applications frequently call for locating objects through concrete and asphalt as well as beneath soil.

Many tasks, which were previously, time consuming, costly, and dangerous, can now be accomplished quickly and efficiently using radar scanning.

This accurate, non-invasive technology is producing enormous savings in construction, engineering, and maintenance.
Concrete Scanning - Concrete NDT

Deteriorating concrete has been in the news recently and demands for the complete inspection of concrete bridges is widespread.

To evaluate a massive number of structures in a short time, inspectors are relying on non-destructive, non-invasive radar scanning.

In addition to evaluating the condition of concrete, GPR can quickly locate and document the position of post tension cables, conduit, pipes, and rebar buried inside a concrete slab.

The portability and ease of operation of modern GPR systems allows the operator to move easily about the job site and to record a large amount of data in a short period of time.
Example of rebar in a concrete balcony with the light fixture below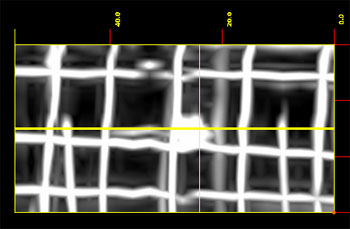 Locating Post Tension Cables
Post tension cables are commonly used in large-scale concrete construction, but once buried in a concrete slab, their exact location is not apparent.

These cables are under thousands of pounds of tension, accidentally cutting or drilling one can be extremely hazardous to workers and can compromise the structural integrity of the building.

GPR scanning prior to any cutting or coring lets workers know exactly where these cables are located and ensures that the project can proceed efficiently and safely.
Post Tension Cable in a Concrete Beam: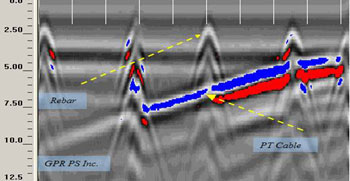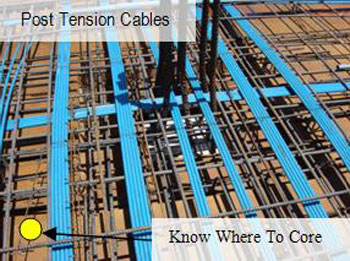 Locating Underground Utilities – Pipes, Tanks, Drums
Locating underground pipes and unseen targets in the ground is a critical when trying to dig or trench in the soil. GPR can locate pipes, tanks drums, dump sites, voids, sinksholes and many other things in the ground.
Hundreds of accidents occur every year because a contractor cuts or digs up a natural gas pipe in the ground as seen in the photo below.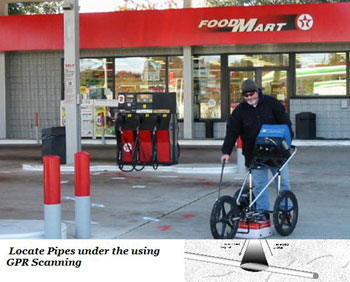 Photo Courtesy of GSSI
Balcony Deterioration Mapping
A concrete balcony collapsing is always a threat and with millions of balconies in the US alone, this is a serious matter. With GPR scanning, which similar to Concrete X Ray, deterioration maps can be made plotting which balconies are in distress.
The data is then quantified and compared to the other decks in the building. Concrete inspection with GPR is a fast reliable tool to gather data which can be used to help avoid dangerous situations.
BELOW: Concrete Balcony isolating 4 areas of concrete deterioration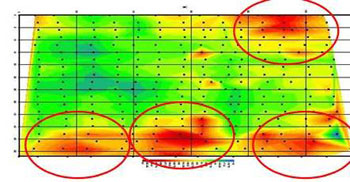 Bridge Deck Inspection
Bridge Deck Inspection will help locate rebar inside the deck. GPR can also accurately map the concrete cover on the deck help to isolate where there concrete has worn and may pose a serious problem.
GPR also will shows concrete deterioration. Concrete deterioration is a by product of rebar corrosion. When using GPR to scan the concrete, plan maps are created showing where the concrete is compromised.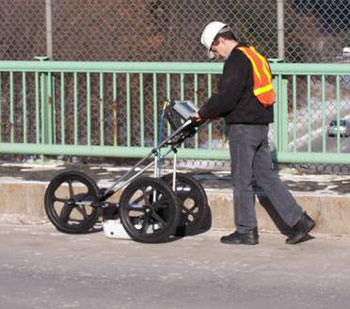 Photo Courtesy of GSSI
Locating Sinkholes
Locating sinkholes before they cause catastrophic damage to property, infrastructure or people can help avoid these dangerous situations. Broken pipes under the ground can cause these dangerous sinkholes and using GPR can help isolate the problem areas before they develop.
See Broken Pipe Below: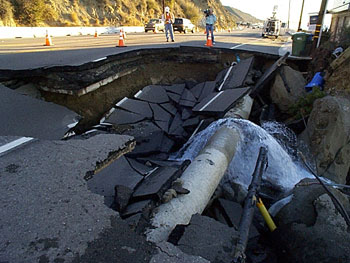 Locating underground storage tanks & drums
Locating underground stroage tanks or UST is a common use for ground penetrating radar. Finding these USTs or buried drums can be accomplished with a low frequency antenna.
Below, four storage tanks were set in place and after GPR Scanning the results of the four tanks are shown below.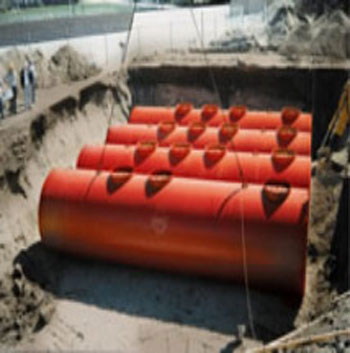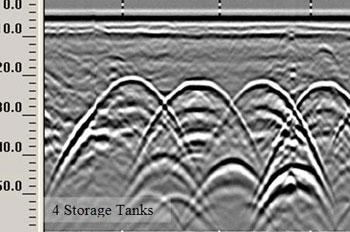 Roadway Evaluation
GPR is used to evaluate the asphalt thickness or cover. Traditionally, a core sample is taken every quarter mile and measured. This is how DOTs would see the condition of the road.
Now using GPR, a sample of the asphalt thickness can be recorded every foot while driving a truck mounted GPR down the highway. This saves a great deal of time and money.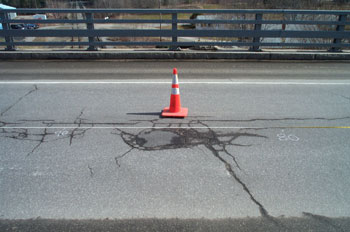 Photo Courtesy of GSSI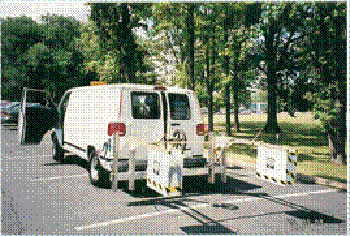 Photo Courtesy of GSSI
Forensic Investigation
Ground Penetrating Radar has been used to locate buried bodies under the ground and inside concrete for decades.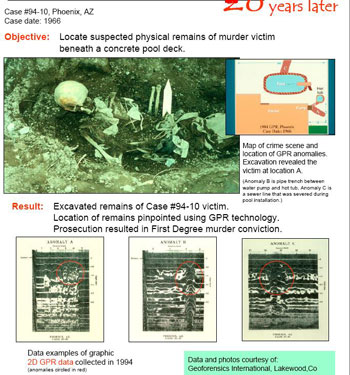 Photo Courtesy of GSSI