What Lies Beneath
Ground Penetrating Radar Helps Contractors See Underground and More
It used to be that the only person who could see underground and through concrete slabs was Superman, but now contractors are able to see underground and through walls, floors and other materials usually inaccessible to the human eye with the help of Ground Penetrating Radar systems.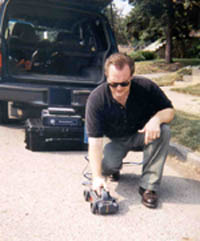 Ground Penetrating Radar (GPR) systems are used to non-destructively explore the subsurface of the ground for a wide variety of industries and to inspect infrastructure systems. These systems are used in the construction industry to allow contractors to precisely locate reinforcing, electrical conduit, water and sewer lines, and voids in and below a concrete slab. This technology is much safer than X-rays and can be performed without disturbing surrounding areas or occupants of structures.
GPR works by transmitting pulses of ultra-high-frequency radio waves into the ground or other material through a transducer or antenna. The transmitted energy is reflected from buried objects or evident contacts between different earth materials. The antenna then receives the reflected waves and stores them in the digital control unit. GPR waves can reach depths up to 100 feet in low-conductivity materials like dry sand or granite. Clays, shale and other high-conductivity materials may weaken or absorb GPR signals, which can limit the depth of penetration to three feet or less.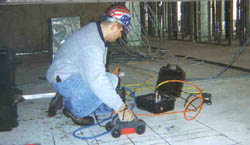 A number of CSDA members have recently begun to employ this new technology, including Ground Penetrating Radar Systems, Inc. (GPRS), a subsidiary of CSDA member Ohio Concrete Sawing and Drilling, Sylvania, Ohio. GPRS recently employed the GSSI Structure Scan GPR system for a job at the Westin Hotel, which is currently under construction in the recently completed McNamara terminal of the Detroit Metro Airport. Matt Aston, president and owner of GPRS, said he was chosen for this job because he offered the only technology available that was safe and efficient for this job.
During construction of the hotel, Pace Mechanical, the mechanical contractor for this job, made some changes for the location of the plumbing beneath the concrete floors in the hotel. The changes required that 400 new holes be drilled in the floor. The floors were threaded with post-tensioned cables for structural reinforcement of the building. It was vital that these cables not be cut during the drilling process. Post-tensioned cables can hold up to 100,000 pounds of tension and, if severed, the release of the tension would force them to break out of the concrete floor and cause severe structural damage to the building. GPRS was contracted to map out each area the contractor wanted to drill in and create grids to show where it was safe to drill and where it was not.
Aston performed the scan with a GPR system in 404 rooms of the hotel, covering a total of about 6,400 square feet between March and August. Aston mapped out each four-by-four-foot location by first rolling the antenna of a GSSI Structure Scan over the floor to detect any steel cables. Detected cables were visible on the Structure Scan screen. He marked each discovery on the floor and repeated this process numerous times within each 16-square-foot area. He then "connected the dots" to create grids on the floor. Aston mapped out 400 locations during the course of this job, taking about 30 minutes to map and double check each location.
"There is a learning curve, but once you get to the peak of that curve, I found the system itself pretty easy to use," Aston said.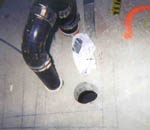 Another CSDA member that has recently begun to employ the Structure Scan and GPR technology for its clients is Construction Solutions, Olathe, Kan. Rick Norland, P.E., general manager of the Construction Solutions division at Diamant Boart, Inc., recently returned from England where he completed a GPR scan on a decommissioned graphite pile nuclear reactor. The graphite pile had survived a fire many years ago, but the flames left it structurally unsound. When burned, graphite becomes spongy and porous like charcoal. The general contractor for this job contracted Norland to perform a GPR scan to determine the structural integrity of the graphite pile prior to commencing demolition work.
Since radiation levels would increase steadily the further the operators delved into the pile, quick reactions to structural changes were necessary to avoid prolonged exposure. The contractor needed to know all the structural details of the graphite pile before they began deconstructing it so they would be prepared for any structural circumstance they encountered.
Since GPR technology had never been employed to scan graphite, Norland constructed a test structure using eight two-foot by eight-foot graphite bricks left over from construction of the reactor. Using the GSSI Structure Scan, Norland found he was able to see considerable detail in the graphite including voids within the graphite bricks, the cooling chase (hollow core inside the graphite) and gaps between the graphite blocks. After completing this highly-successful test scan, Norland recommended that he conduct a full scan of the graphite pile and create a three-dimensional computer model to illustrate what is present within the pile. Norland is currently waiting to see if the contractor chooses to contract for a full scan.
"Structure Scan and other GPR devices are not something the average contractor can go out and buy, use and be happy with the results," Norland said. "The post-processing software is not user-friendly and requires considerable training and a high degree of computer knowledge to use. Individuals who want to conduct GPR scanning must dedicate themselves to this task 100 percent," he said.
Todd Forbush, has been working with a GPR system as an independent contractor working with CSDA member Constructions Solutions as a field technician.

"Not only do you need personnel dedicated to learning the technology and performing the work, but also a commitment to exploring the variety of potential applications," Forbush said. After his initial GPR training, Forbush spent several weeks practicing with the technology in as many different applications as possible. "In the radar manufacturer's training program, they had us practice identifying as many different media as possible: concrete, asphalt, steel, pvc, dirt, air, etc. So, when I was on my own to practice, I followed the same format and looked for as many different and unusual applications to develop my skills."
Forbush points out that sometimes contractors may need to look for what is beyond the concrete, not just what is embedded in the concrete. Forbush recently found this to be true on a job in he performed in Norwood, Ohio. A utility contractor was excavating to replace old water lines in a residential sub-division. The blueprints used by the city to identify the old lines were not completely accurate, which resulted in waterline damage during excavation that caused expensive downtime and unplanned repair costs. Forbush used a GPR system to scan an area of the project scheduled for future excavation and indicated where the GPR showed variations of the existing waterline from the blueprint layout.
"When they dig that section of the road, they will see which system is more accurate - old blue prints or radar imaging," Forbush said. "I am confident the radar will prevail, and doing a scan prior to digging is much less expensive than a single interruption of water service and repair of the damaged line,' he said.
Tony Burnett, GPR technician for Di-Tech International, Winnipeg, Manitoba, Canada, agrees with Norland and Forbush, regarding staffing of a GPR service.
"The ideal individual to use this equipment would have decent computer skills and an extensive background in analyzing concrete structures," Burnett said. "Learning to use the device includes experience. You can't learn it all from the book," he said.
Burnett has been using GPR technology for a little over one year, and has also used the Structure Scan to scan concrete slabs, floors, walls and bridges to locate plumbing, piping, voids and other anomalies. He has used GPR under conditions ranging from 35 degrees Celsius to negative 35 degrees Celsius. Recently, Burnett used GPR technology to scan the concrete floor of a warehouse in Winnipeg. Burnett conducted the scan to determine the structural integrity of the surface. This was important to warehouse employees who frequently drive heavy machinery across the floor. Burnett sampled sections over a 6,000-square-foot area to determine where voids existed beneath the surface; areas drivers would have to avoid in the future. The entire project took Burnett less than a day to complete.
"The nice thing about radar is that you can scoot along at a pretty rapid pace," Burnett said. "I have found GPR to be a very versatile, non-intrusive, non-destructive method of investigation. To date, the degree of accuracy of the information we have been able to provide our customers is amazing." Burnett hopes to see GPR technology in the future that would not require working on his hands and knees. "There are always areas for improvement," he said. Both Burnett and Norland said they find new ways to use GPR technology every time they go out on a job.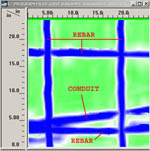 David Gronemeier, president and owner of Gronemeier Concrete Cutting Inc., Bloomington, Ill., has been using GPR for about three months. Recently he employed a GPR system to locate radiant heat tubing in a warehouse floor. An Illinois-based home decorator manufacturer contracted Gronemeier to perform GPR scans in the concrete floor of their warehouse. The company wanted to create a 12-inch by 20-foot by 1.5 inch-deep trough in the floor for slurry run-off from the production of granite countertops. They also wanted to install anchors for their equipment and erection of walls. The floor was known to be embedded with radiant heat tubing, which needed to be located prior to cutting for the trough and installing the anchors. The company also needed to be sure the tubing was a least two inches below the surface. Gronemeier performed about 40 line scans over a 20-foot by 40-foot area with a Structure Scan to determine the location and depth of each section of tubing. He scanned the area, marking the location of any tubing in each area as he went. Then, he was able to map out the pattern of the tubing to let his clients know where it was safe to cut.
Gronemeier found one anomaly less than two inches beneath the surface that, after performing a detailed analysis using the GPR software, he found to be rebar that could not be avoided. Gronemeier also performed a more detailed scan and analysis of another section of the floor that was chosen to be the site of installation for a new sump pit.
Other CSDA members who have successfully employed GPR systems include Ohio Concrete Cutting and American Concrete Cutting.